Meet Dmitri
Howdy!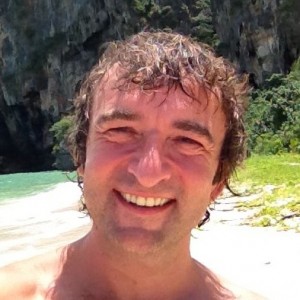 My name is Dmitri. After graduating from college in Moscow, I moved to America to get my Ph. D. in neuroscience. One thing led to another and before I knew it I became a serial entrepreneur. I created one of the first online ad management solutions, ran a directory of web hosts, published a monthly print magazine, produced a trade show, and developed a technology that helped online marketers improve conversions and detect PPC click fraud.
All along, I dreamed of reaching a point when I would have more time. I wanted to travel, spend time with friends and family (not so easy – mine are spread all over the world), read, learn new things and enjoy life.
I haven't worked for a boss for more than 15 years. With Skype and my beat-up Mac, I have the freedom to work anywhere, any time. But unfortunately I found myself working everywhere, all the time. There was always some last-minute emergency to make me late for practice, some bungled opportunity that kept me up at night.
Relenta is the result of my quest to take back my life. And I've done it. These days I travel to an average of ten countries every year — visiting my family in France and Sweden, friends in Russia, Ukraine, Latvia, UK and Thailand — without skipping a beat on any of my projects.
You, too, can create the time to do what you've always wanted but thought you're just too busy. Here's my secret:
Set up a command-and-control system so that nothing falls through the cracks

Focus on doing things instead of remembering what to do and where everything is

Release from effort and let your work flow naturally
You can always email me directly, and guess what? Relenta will not let me lose your email in the shuffle.
Cheers!
-d.
Dmitri Eroshenko